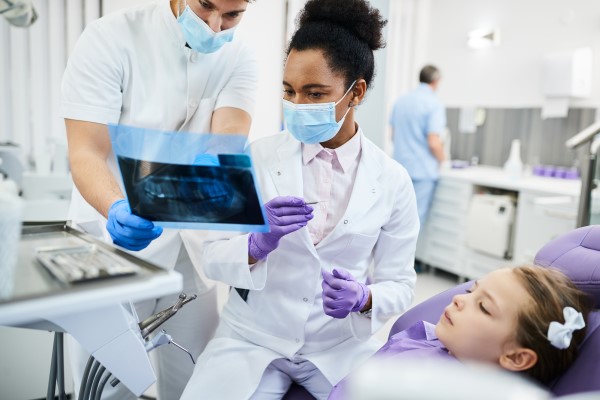 Pediatric dentistry visits are essential for toddlers, children and adolescent patients. These visits involve thorough examinations and routine cleanings, both of which are necessary for maintaining good oral health. Typically, pediatric dentistry visits begin when the first baby teeth start to erupt, which may be around the age of two or three. Some parents wait to take their children to the pediatric dentist until the age of four or five; waiting this long is not recommended, but it is common.
Regardless of age, a child's first pediatric dentistry appointment can induce anxiety, which is completely normal. Aside from the child's fears, parents also often find themselves feeling anxious. Thankfully, there are a few ways that parents can prepare themselves and their children for an upcoming appointment.
Getting ready for a child's first pediatric dentistry visit
Outlined below are a few tips that parents may find useful when preparing children for their first visit to a pediatric dentistry office. These tips can be especially helpful when a child expresses anxiety or fear about the dental appointment.
1. Visit the pediatric dentistry practice before the appointment
One of the best ways to prepare for a child's first pediatric dentistry visit is to go to the dental office beforehand. Visiting the pediatric dentistry practice prior to the first appointment can be a helpful way for the child to get familiar with the environment. Such familiarity may provide a sense of comfort, security and peace of mind for both the child and parent.
2. Explain the appointment
Another way for parents to prepare children for a first time pediatric dentistry visit is to explain what will happen. Taking the time to discuss each step of the appointment can be helpful, as it lets the child know what to expect. When expectations are understood from the beginning, children may respond better when it is time for the actual appointment.
3. Address concerns, fears or anxiety
Children are likely to have fears or anxiety about their first pediatric dentistry visit, which is completely normal. Parents should address their child's concerns and debunk any myths or falsehoods. Oftentimes, the source of a child's anxiety stems from a fear of pain or the unknown. Discussing the visit prior to the actual appointment can be helpful for alleviating these distressing fears.
4. Meet the pediatric dentist beforehand
A popular way to prepare children for their first dental appointment is to take them to the pediatric dentistry practice beforehand. This gives the child an opportunity to meet the dentist in a relaxed setting. Children do not always respond well to strangers. Meeting the dentist beforehand allows the child to get comfortable, which can help make the first appointment go much smoother.
Pediatric dentistry visits
When looking for further tips on preparing for a child's first pediatric dentistry visit, it is best to consult directly with the dentist. Any questions or concerns can be appropriately addressed beforehand, which can be helpful for the actual appointment. Reach out today to get started or to find out more!
Request an appointment here: https://www.canyonridgepediatricdentistry.com or call Canyon Ridge Pediatric Dentistry at (303) 841-7900 for an appointment in our Parker office.
Check out what others are saying about our dental services on Yelp: Pediatric Dentist in Parker, CO.
---
Related Posts
April 9, 2021
Wondering whether your child will benefit from pediatric dentistry services? It is essential for parents to make the right choice of dentist for their children, as taking care of a child's …