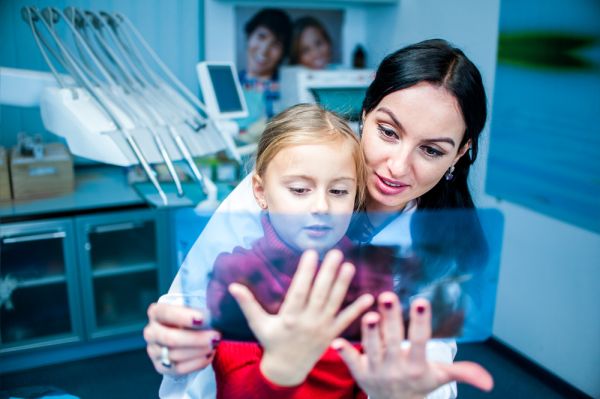 Our kids' dental office is an excellent place to bring children who are in need of a dental cleaning or who are suffering from oral health problems. Our focus is on the health of young children, making us well equipped and experienced to deal with a wide variety of oral health challenges. Plus, since we enjoy treating children, most kids are happy to visit our office and feel incredibly welcome here.
Children love visiting our office
That statement is not a joke! Parents are often surprised by how excited their kids get when they visit our office. It is entirely rational for children to look forward to the appointment and to talk about it afterward. This is because we know how to have a good time and take care of the young one's teeth at the same time. We do not make children feel as though they are coming somewhere stressful. Instead, we do our best to create a cheerful and relaxing atmosphere where they feel welcome and appreciated.
It is the simple things
In our dental office, we know that it is the simple things that make children feel welcome and excited to be here. It is small things like knowing their name remembering to ask questions about the sport that they like to play. It is giving a high-five and letting them pick out their favorite color toothbrush. In other words, we treat children like they matter and to us and work to convey that to them, just like they do!
Kids can be themselves here
One of the most significant differences between our kids' dental office and a general dentist office is that we let kids be themselves. We do not ask them to be completely quiet and reserved. They can excitedly chat about their favorite movie, skip down the hall and have a good time. By just letting them be themselves, children are more able to relax and enjoy their time at the dentist.
We provide comprehensive care
Being a kids dental office means that we focus on children. It has nothing to do with the type or level of care that we provide. We still offer comprehensive dental care including the following services:
Dental examinations
Teeth cleanings
Fluoride treatments
Dental restorations
Root canals
Gum treatments
Early orthodontic examinations
These are just a few of the things that we do to help our patients maintain or develop good oral health.
We provide emergency care
Our young patients can also visit us in an emergency. Since there is no way to plan for a tooth chipping or a sudden toothache, this is one of the most critical services we provide. Instead of requiring children to wait with a painful tooth, we can see them right away and begin to restore their oral health.
Schedule an appointment today
If your child is in need of a dentist, schedule an appointment with our kid's dental office. They are going to like it here. In fact, they are going to love it so much that they will ask to come back. This aspect will make it easier than ever for you as a parent to promote good oral health and hygiene at home.
Request a dental appointment here: https://www.canyonridgepediatricdentistry.com or call Canyon Ridge Pediatric Dentistry at (303) 390-5183 for an appointment in our Parker Children's dental office.
---
Related Posts
May 16, 2019
Are you looking for more information on pediatric dental care? Many parents who have young children wonder when exactly they need to take their child to their first dentist appointment. According to the American Dental …
---