Sedation Dentistry
Parker, CO
Sedation dentistry keeps patients calm and collected during dental examinations, cleanings, treatments and procedures. This form of dentistry is ideal for those who have dental anxiety, a fear of the dentist or general discomfort in medical settings. Sedation dentistry can also help nervous children who cannot stand the feeling and noise of dental drills and other instruments.
By meeting with us, we can determine if sedation dentistry is optimal for a pediatric root canal, cavity filling, kids' dental crowns or other procedure for your child. In fact, everyone in your family can benefit from sedation dentistry. This approach to oral health care is appropriate for patients of all ages as long as they are in good health.
HOW SEDATION DENTISTRY WORKS
Sedation dentistry is simple, quick and painless. In some cases, the dentist will prescribe medication for the patient to take about an hour prior to the dental procedure. This medication helps with anxiety relief and promoting a relaxed state of mind. Sedation dentistry patients are encouraged to bring a friend or family member with them to the appointment so they do not have to drive home while feeling the effects of the sedative.
The dentist applies sedation in addition to a possible prescription medication. The dentist's sedation is typically applied intravenously or orally in the form of a pill or liquid. Sedation can also be applied in the form of laughing gas or nitrous oxide. If the sedation is particularly deep, the patient will have to relax in the recovery room or the dentist's chair following the procedure.
It will take some time for the numbing agent to wear off. Sedation that is mild to moderate leaves the patient with minimal, if any, memories of the time in the dentist's chair. The patient is either slightly aware of what is happening or completely unaware of the dental procedure.
THE BENEFITS OF SEDATION DENTISTRY
The primary advantage of this approach to dental treatment is that the patient does not feel pain, anxiety or any other sensation. We can numb the mouth to the point that there is no feeling during a procedure. In fact, a lengthy dental procedure requiring multiple steps can feel like it took a couple of minutes with sedation dentistry.
Thus, the amount of time in the dentist's chair is minimal since we can complete more work during fewer visits. Sedation dentistry should also make it easier for those who fear to go to the dentist to receive regular treatment. Routine dental care is essential to stop the formation of cavities, gum disease and other oral health problems.
THE MANY DIFFERENT TYPES OF SEDATION
We can perform sedation dentistry with a number of different dental sedatives. General anesthesia is a reference to the form of sedation in which the patient is put to sleep for the full procedure. The patient reaches the sleep state with the use of anesthesia into the veins.
In some cases, the patient also receives a gas anesthetic that we can apply through inhalation. Patients tend to require a fairly lengthy recovery time following general anesthesia.
LAUGHING GAS
As noted above, laughing gas is a common form of dental sedation. Also known as inhalation analgesia or nitrous oxide, this gas is effective at reducing pain, lowering the gag reflex and reducing anxiety.
ORAL SEDATION
Oral sedation is sedation given in the form of a pill or a pill crushed and mixed with a liquid. The patient takes this type of sedation orally, one hour prior to their treatment. The patient might remain awake after applying oral sedation but will be less nervous about the dental treatment and procedures.
GENERAL ANESTHESIA
Dr. Thomas partners with other medical providers to offer in-office general anesthesia. This is the deepest form of sedation and will ensure that your child does not feel or remember any aspect of dental treatment.
ARE YOU A CANDIDATE FOR DENTAL SEDATION?
Your health, mental state, physical condition and level of fear/anxiety about dental treatments all play a role in whether sedation dentistry is right for you. If we determine you are not in the proper physical state for sedation dentistry, you will need to address the medical problem before you can participate in this form of dental care. Patients who have conditions like diabetes, hypertension, respiratory diseases and cardiac disease will require clearance from their doctor before receiving sedation dentistry.
Helpful Related Links
About our business and website security
Canyon Ridge Pediatric Dentistry was established in 2012.
We accept the following payment methods: American Express, Cash, Check, Discover, MasterCard, Paypal, and Visa
We serve patients from the following counties: Douglas County
We serve patients from the following cities: Parker, Centennial, Castlewood, Southglenn, Castle Rock, and Highlands Ranch

Norton Safe Web

. View Details

Trend Micro Site Safety Center

. View Details
Related Posts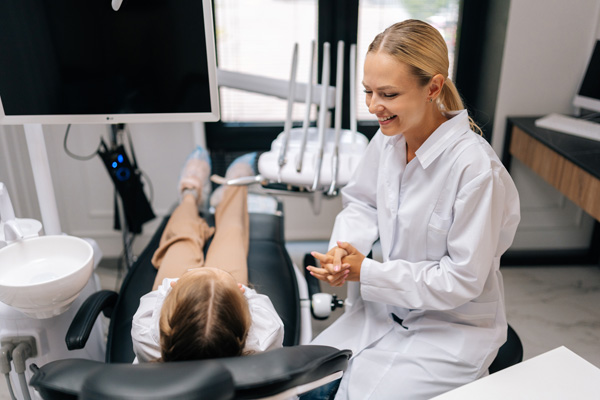 Dental bonding for kids is a versatile, minimally invasive treatment option for a wide range of dental concerns. Dentists can typically restore a child's teeth to full form, function, and aesthetics by adding a tooth-colored resin substance to the tooth surface and curing it with a special light. It is important for parents to know…