Special Needs Dentistry
Parker, CO
Those who have special needs deserve gentle and nuanced dental treatment provided by a caring professional. Kids and adults who have such special health care needs require consistent oral examinations, cleanings and restorative treatments just like everyone else. However, these individuals should visit a dentist who specializes in treating people with their special needs.
Dentists who carve out a niche in special needs dentistry pass through additional training regular dentists do not receive. Even the staff members who work at special needs dentistry offices pass through this extra training as well.
KIDS SPECIAL NEEDS DENTISTRY
Pediatric special needs dentistry exists to treat youngsters who have emotional, physical, sensory, cognitive, developmental or other impairments. Those who are struggling with an orofacial condition or disorder are also treated by pediatric dentists. Little ones who have special health needs should visit with pediatric special needs dentists for everything from oral health examinations to cleanings, fillings and restorative treatments.
SPECIAL NEEDS PATIENTS REQUIRE PREVENTIVE DENTAL CARE JUST LIKE EVERYONE ELSE
Do not let your special needs child's requirement for nuanced care prevent you from bringing him or her to the dentist every six months. Special needs children and adults require regular dental care just like the typical patient. Professional cleanings along with fluoride treatments and examinations should occur every six months.
If any sort of accident occurs during school, gym, work or any other activity, it will help to establish a relationship with a special needs dentist. This way, you can bring your child in for care with a trusted oral health professional. If you have such an emergency, reach out to us for prompt treatment.
ABOUT SPECIAL NEEDS DENTISTS
Special needs dentists are required to complete an additional three years of training on the postgraduate level. This training is in addition to the dental degree. The candidate is then eligible to obtain Board Certification through the American Board of Special Care Dentistry.
Special needs dentists are willing to spend additional time with patients who require highly individualized care. These dentists take the extra step of investing the time and effort required to build meaningful relationships with sensitive patients. The goal is just as much to earn the patient's trust and friendship as it is to keep his or her teeth clean and healthy.
This is precisely why the best special needs dentists focus on providing a welcoming practice that does not have the potential to intimidate or agitate highly sensitive patients in any way.
PRE-TREATMENT PLANNING
Pre-treatment planning is necessary to get a gauge of the special needs patient's required care, medical history, need for breaks during treatments/procedures and other details. Everything from the patient's mode of transportation to whether all of the necessary forms have been filled out should be addressed during pre-treatment planning.
Furthermore, people need to address any attempt to de-sensitize the special needs patient before the appointment at this point in time. It is important to coordinate all necessary forms of care by the patient's nurses, physician, social worker or other support personnel before the dental procedure.
THE CHALLENGE OF COMMUNICATION
Communication with special needs patients can prove difficult during dental treatments and procedures. Some such patients are not comfortable verbally expressing themselves. Such patients express themselves in non-traditional ways. Some patient has impairments that heighten sensitivities.
We focus just as much on the tone and volume of their voice as their body language and even the subtleties of facial expressions. The same goes for dental hygienists and other support staff. If necessary, we can consider writing messages on paper or even using a language board to facilitate interactions with patients.
PREPARING FOR THE UNEXPECTED
Certain special needs patients have issues with balance. Others have aggressive tendencies. Some such patients require protective stabilization or a means of support throughout dental treatments. Anything from rolled blankets to pillows or towels can be used for head stabilization. Oral stabilization with mouth props is made possible with Styrofoam bite blocks.
SEDATION DENTISTRY FOR THOSE WITH SPECIAL NEEDS
If your little one requires treatment with a special needs dentist, you should speak with him or her about sedation dentistry. This form of dental treatment involves the use of a sedative to numb any potential pain and make the patient completely comfortable. It will feel as though the procedure took a couple minutes when in reality it took upwards of an hour or longer. This approach might be exactly what your special needs child requires to make it through a dental procedure without feeling overly anxious or causing a problem.
Helpful Related Links
About our business and website security
Canyon Ridge Pediatric Dentistry was established in 2012.
We accept the following payment methods: American Express, Cash, Check, Discover, MasterCard, Paypal, and Visa
We serve patients from the following counties: Douglas County
We serve patients from the following cities: Parker, Centennial, Castlewood, Southglenn, Castle Rock, and Highlands Ranch

Norton Safe Web

. View Details

Trend Micro Site Safety Center

. View Details
Related Posts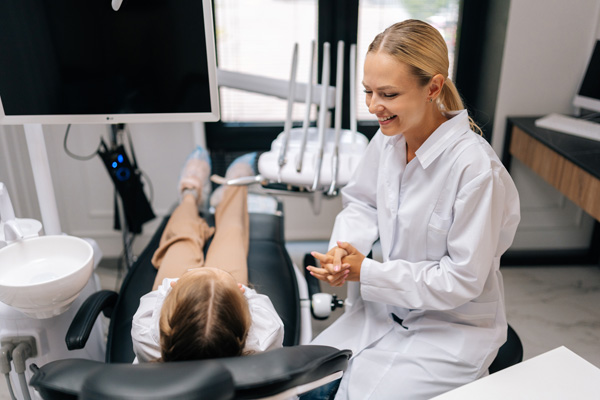 Dental bonding for kids is a versatile, minimally invasive treatment option for a wide range of dental concerns. Dentists can typically restore a child's teeth to full form, function, and aesthetics by adding a tooth-colored resin substance to the tooth surface and curing it with a special light. It is important for parents to know…