School Program
Parker, CO
CANYON RIDGE PEDIATRIC DENTISTRY REMAINS TRULY COMMITTED TO HELPING CHILDREN ACHIEVE DENTAL HEALTH BY OFFERING SCHOOL PROGRAMS!
Dr. Marc Thomas and the entire team at Canyon Ridge Pediatric Dentistry want to guide every child in the Parker community to achieving healthy teeth and gums. If you'd like to join our effort to make dental knowledge and dentistry care tips available to everyone, please contact our practice to schedule school programs for your elementary or preschool students. Dr. Thomas and our staff are excited to present this beneficial knowledge to your students! Please call us today to arrange school programs for your little learners.
SCHOOL PROGRAMS FROM CANYON RIDGE PEDIATRIC DENTISTRY
At Canyon Ridge Pediatric Dentistry, we love to visit pre-schools and elementary schools to talk about teeth. Generally, we make school visits in February, but we can schedule any time you would like us to visit. We can also have the children visit our dental office for a field trip.
There are benefits to both types of school programs, and they each work to help the little ones in your care learn more about dentistry. School programs from Canyon Ridge Pediatric Dentistry are performed to give children additional knowledge about their overall oral health.
WE MAKE OUR SCHOOL PROGRAMS FUN!
While we instruct your students about dental well-being and the importance of daily brushing and flossing, our team members can play interactive games to make the information learned during the school program more memorable. We also show a short video during the school program. Our staff members can even dress up like the tooth fairy! The Canyon Ridge Pediatric Dentistry team enjoys seeing how excited, and attentive, children can get when visited by the tooth fairy during our school programs!
If you decide for our secondary school program, we'll arrange a day for your preschool to take a field trip to Canyon Ridge Pediatric Dentistry. Many children are afraid of the dentist, and this school program can be beneficial to help alleviate that anxiety. Our school program team will show your students around the office, and answer any questions they may have about dentistry in general. The more familiar a child becomes with Canyon Ridge Pediatric Dentistry during a school program, the less likely he or she will be afraid! We will also provide a gift bag during this type of school program.
Please contact us today to schedule a school program with us today. Canyon Ridge Pediatric Dentistry can provide school programs for elementary schools and preschools in Lone Tree, Highlands Ranch, Centennial, The Pinery, Elizabeth, Parker, and the surrounding Colorado areas. Please be prepared to tell us how many children we can expect during your school program. Dr. Thomas and the Canyon Ridge Pediatric Dentistry school program team want to make enough gift bags for everyone!
Related Posts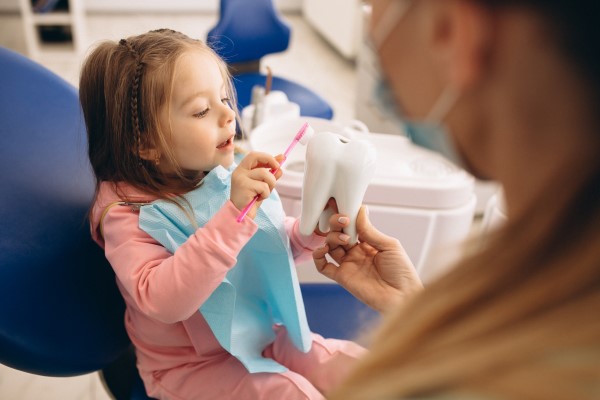 According to a kids dentist, many parents are unsure as to which toothbrush and toothpaste their child should use. Going to a store and looking at the wide selection available can be overwhelming. In this review, we offer advice from our kids dentist as to how parents can ensure that their child has the right…